Maryry
Apprenti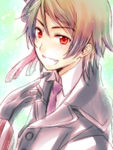 Hors ligne



Inscrit le: 25 Aoû 2011
Messages: 166




: 0

: 0

: 0
Posté le: Jeu 25 Aoû - 16:21 (2011)

 

   Sujet du message: [Hetalia Axis Force] Hi no Izuru kuni Zipangu

---



Iro hani hoheto chiri nuru wo
hi no izuru kuni zipangu

"Aratamemashite nihon desu
Shumi wa kuuki wo yonde hatsugen wo tsutsushimu koto desu"


Nagai rekishi no naka ni wa
hiki komotte ita toki mo aru
Minasan yori wa
unto jiisan touyou ni ukabu watashi


America san no muri nandai ni
hibi keikenchi wo age ganbatte
Sugoi iro desu
taberaremasen demo moratte shimau watashi


Wakai hito ni wa tsuite ikenai
sonna koto wo omou hi mo aru
Shikashi bushi no tamashii dake wa
wasurete wa inai no desu


Kogataka nara makasete kudasai
iro mo sore zore goyoui shitemasu
Nijigen nara karada yogoremasen
kokoro wa sukoshi yogoremasu ga


Iro hani hohe to chiri nuru wo
hi no izuru kuni zipangu


Kuni wo hiraita totan ni
odoroki mashita gekihen de
Youfuku kutsu ni chikara no kagiri!
Demo sugu narete shimau watashi

"Juunen hodo itadakere ba..."


Hakkiri shiro to iwaremasu ga
hito yori zutto kangaete ite
Dakara Yes to No dake de wa
katari tsukusenai mono desu


Arenji nara makasete kudasai
karee wa pan nimo gohan nimo aimasu
Kutsujoku niwa totemo taeraremasen
kakunaru ue wa seppuku desu… ara?


Kono umi no ue niwa tayou na kuni atte
omonjite itakotomo kutsugaeru

"Haru wa akebono
Natsu wa yoru desu

Aki wa yuugure
Fuyu wa tsutomete"


"Ten wo terasu kami no moto

Watashitachi no rekishi mada sennen tsumugimashou ne..."

Hana wa nioedo chitte yukimasu
tsuki wa michi tara kake yuku mono desu
Shiki no utsuri no kaori yuta kana
watashi wa kono kuni ga suki desu

Iro hani hohe to chiri nuru wo
hi no izuru kuni zipangu

______________________________________

I-ro-ha-ni-ho-he-to-chi-ri-nu-ru-wo
Land of the rising sun, Jipangu

"Nice to meet you again, my name is Japan
My hobbies are analyzing the situation and determining whether or not to speak."


In my long history

There were times when I withdrew into myself

Compared to everyone else

I am very much an old man, floating in the Orient



To America-san's unreasonable demands

I raise my experience points and do my best every day

The color is incredible

I cannot eat it, but I end up receiving it anyway



I cannot keep up with young nations (people)
There are days when I think such things

But my warrior spirit, at least,

I have not forgotten



If it's miniaturization, please leave it to me

I am also offering one in each color

If it's two-dimensional, then the body will not be tainted

The heart, however, will slightly be tainted



I-ro-ha-ni-ho-he-to-chi-ri-nu-ru-wo

Land of the rising sun, Jipangu



As soon as I opened the country

I was astonished by the sudden changes

Western clothing and shoes, to the best of my ability!

But I immediately grew accustomed to them



("If I could have just ten years")



I am told to make myself clearer but

I think much more than others and

Therefore with just "yes" and "no"

I cannot say all that I would like to say.



If it's an arrangement, please leave it to me

Curry goes well with both bread and rice

Disgrace is extremely unbearable

Since it has come to this, I will commit seppuku... Oh?



Upon this ocean, I met a variety of countries and

The things I had held in such high esteem were completely overturned



"In spring, it is the dawn; in summer, it is the night
In autumn, it is the evening; in winter, it is the early morning"



("Beneath the god who illuminates the sky

Our history, let us weave it for another thousand years")



Flowers are fragrant but they fall and scatter

When the moon is full it proceeds to wane

The fragrance of the four seasons' change is rich and varied

I love this country


I-ro-ha-ni-ho-he-to chi-ri-nu-ru-wo
Land of the rising sun, Jipangu
_________________
Hetalia en force! >o<

Flashback et compagnie.